CatastroDownloader (spa)
El objetivo de esta librería es descargar una copia completa de Catastro a nivel Provincial (provincias de España). Las ventajas de utilizar esta librería son:
El proceso es paralelizable, de forma que se puede descargar el Catastro provincial en una sola ejecución de R. Además la ejecución se puede configurar de forma que se reciba una notificación en el móvil cuando el proceso ha finalizado.
El proceso junta el Catastro de todos los municipios en un único archivo pero manteniendo el nombre del municipio de forma que sirva para procesos de filtrado posteriores.
El proceso genera un único archivo en formato .gpkg con 3 capas internas: - buildings - buildingparts - otherconstructions
Se estima la altura de la edificación en base a un parámetro de altura dado sobre las plantas por encima del nivel del suelo.
Instalación
La librería ha sido testada en:
Ubuntu 20.04 with R 3.6.3
Windows 10 with R 4.0 + Rtools40
Instalar librería:
# install libraries to install packages from github




install.packages

(

"devtools"

);

 

library

(

devtools

)





install_github

(

"cesarkero/CatastroDownloader"

)



Antes de seguir…
Por favor, usa esta librería de forma coherente. La descarga masiva de estos datos en repetidas ocasiones o utilizando los procesos en paralelo puede suponer una carga demasiado alta para los servidores públicos, lo que podría conllevar a futuras restricciones del servicio. Disfruta de los datos de forma respetuosa.
Además, si solo necesitas la información de catastro para uno o unos pocos municipios simplemente utiliza el complemento de QGIS que sirve para tal propósito. Está bastante bien –> Spanish Inspire Catastral Downloader.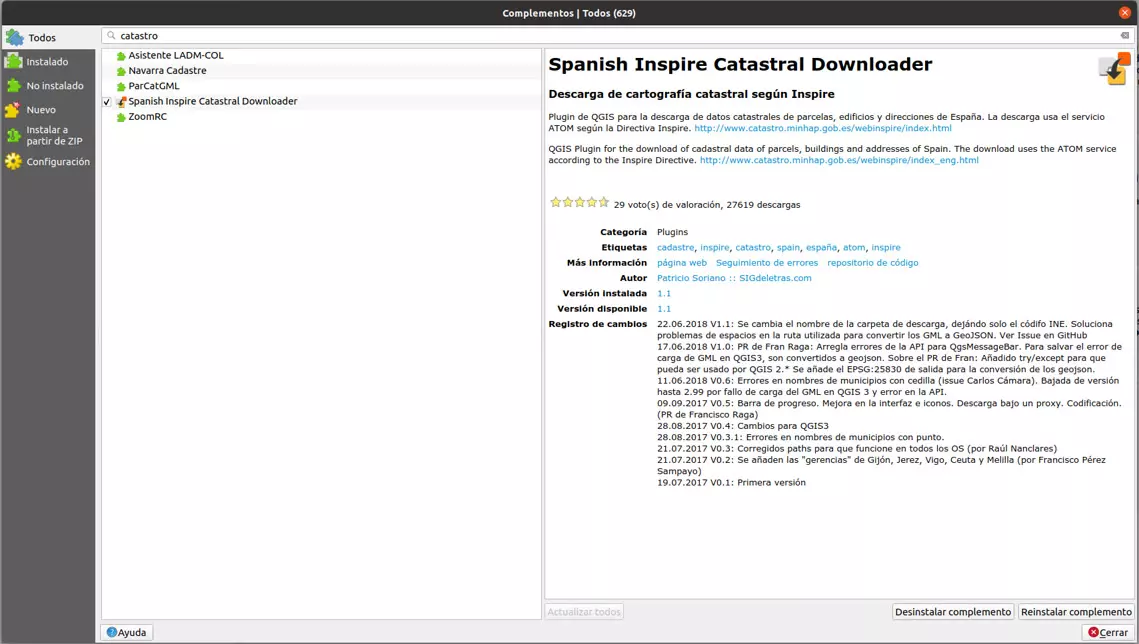 Si has configurado el servicio antes rpushbullet recibirás una notificación cuando el proceso haya concluido para cada una de las provincias.
¡DISFRUTA DE LOS DATOS¡
Ejemplos
Descarga de datos para una sola provincia
Captura la lista de provincias disponibles en el servicio ATOM de Catastro:
library

(

CatastroDownloader

)





# set parameters




catastropush

 

<-

 

"http://www.catastro.minhap.es/INSPIRE/buildings/ES.SDGC.bu.atom.xml"





# Catch Provinces Names in atom service




FeedProvinces

(

catastropush

)



Esta es la lista de nombres de provincias disponibles a 2021-01-27:
"Albacete" "Alicante" "Almería" "Avila" "Badajoz" "Baleares" "Barcelona" "Burgos" "Cáceres" "Cádiz" "Castellón" "Ciudad Real" "Córdoba" "Coruña" "Cuenca" "Girona"
"Granada" "Guadalajara" "Huelva" "Huesca" "Jaén" "León" "Lleida" "La Rioja" "Lugo" "Madrid" "Málaga" "Murcia" "Ourense" "Oviedo" "Palencia" "Palmas (Las)" "Pontevedra" "Salamanca" "S.C. Tenerife" "Cantabria" "Segovia" "Sevilla" "Soria" "Tarragona" "Teruel" "Toledo" "Valencia" "Valladolid" "Zamora" "Zaragoza" "Cartagena" "Gijon" "Jerez Frontera" "Vigo" "Ceuta" "Melilla"

Para descargar Catastro para una provincia (p. ej. Melilla), establece los parámetros y ejecuta:
# Set parameters 




catastropush

 

<-

 

"http://www.catastro.minhap.es/INSPIRE/buildings/ES.SDGC.bu.atom.xml"

 

#url for the atom service




output

 

<-

 

"../00_Output/"

 

#where the .gpkg file will be stored




tempdir

 

<-

 

"./temp/"

 

#careful as all files inside will be removed




rpush

 

=

 

TRUE

 

#if you want a notification when finished (RPushbullet must be configured before)




overwrite

 

=

 

TRUE

 

#overwrite .gpkg if exists




Hfloor

 

=

 

3

 

#set desired height for each floor above the ground





catastroprovince

(

'Melilla'

,

 

catastropush

,

 

tempdir

,

 

output

,

 

rpush

 

=

 

TRUE

,

 

overwrite

 

=

 

FALSE

,

 

Hfloor

 

=

 

3

)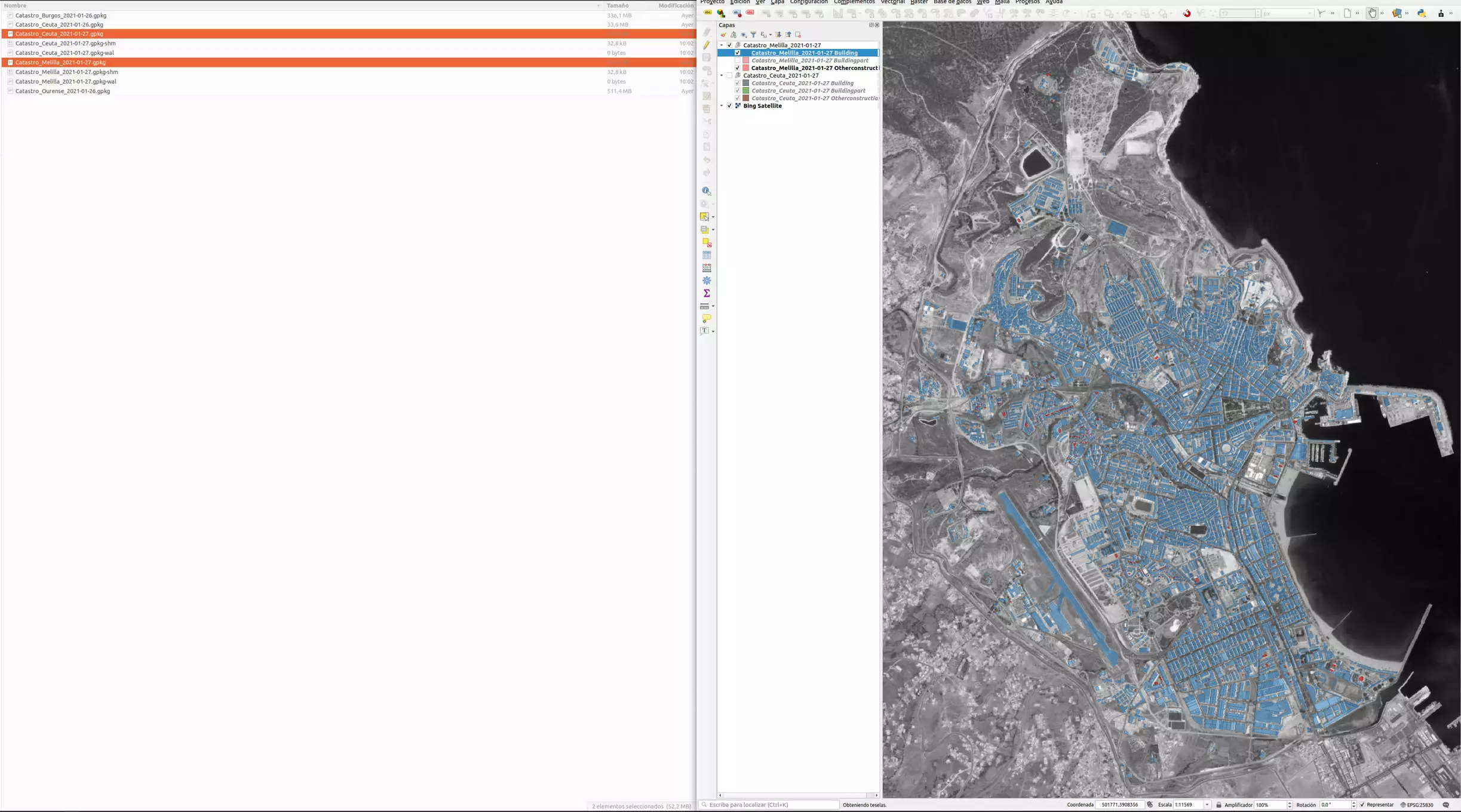 Proceso en paralelo
Parallel process allows to download a list of desired Provinces with just one execution of the code. Must be taken into acount that there are slight differences between the process within Linux and Windows.
Proceso paralelo para Linux
# Set parameters 




catastropush

 

<-

 

"http://www.catastro.minhap.es/INSPIRE/buildings/ES.SDGC.bu.atom.xml"

 

#url for the atom service




output

 

<-

 

"../00_Output/"

 

#where the .gpkg file will be stored




tempdir

 

<-

 

"./temp/"

 

#careful as all files inside will be removed




rpush

 

=

 

TRUE

 

#if you want a notification when finished (RPushbullet must be configured before)




overwrite

 

=

 

TRUE

 

#overwrite .gpkg if exists




ncores

 

=

 

16

 

#specify number of cores dedicated




Hfloor

 

=

 

3

 

#set desired height for each floor above the ground





# Set list of provinces to download




provinceslist

 

<-

 

c

(

"Zamora"

,

 

"Vigo"

)





# Set parallel




cl

 

<-

 

parallel

::

makeCluster

(

ncores

,

 

type

=

"FORK"

)




doParallel

::

registerDoParallel

(

cl

)





# Execute function




foreach

(

i

=

provinceslist

)

 

%dopar%

 

{

catastroprovince

(

i

,

catastropush

,

 

tempdir

,

 

output

,

 

rpush

,

 

overwrite

,

 

Hfloor

)}





# Stop parallel 




stopCluster

(

cl

)



Proceso paralelo para Windows
# Set parameters 




catastropush

 

<-

 

"http://www.catastro.minhap.es/INSPIRE/buildings/ES.SDGC.bu.atom.xml"

 

#url for the atom service




output

 

<-

 

"../00_Output/"

 

#where the .gpkg file will be stored




tempdir

 

<-

 

"./temp/"

 

#careful as all files inside will be removed




rpush

 

=

 

TRUE

 

#if you want a notification when finished (RPushbullet must be configured before)




overwrite

 

=

 

TRUE

 

#overwrite .gpkg if exists




ncores

 

=

 

16

 

#specify number of cores dedicated




Hfloor

 

=

 

3

 

#set desired height for each floor above the ground





# Set list of provinces to download




provinceslist

 

<-

 

c

(

"Zamora"

,

 

"Vigo"

)





# Set parallel




cl

 

<-

 

parallel

::

makeCluster

(

ncores

,

 

type

=

"PSOCK"

)




doParallel

::

registerDoParallel

(

cl

)




clusterEvalQ

(

cl

,

 

library

(

"CatastroDownloader"

))

 

# load libraries




clusterExport

(

cl

,

 

c

(

'catastropush'

,

 

'output'

,

 

'tempdir'

,

 

'ncores'

))





# Execute function




foreach

(

i

=

provinceslist

)

 

%dopar%

 

{

catastroprovince

(

i

,

catastropush

,

 

tempdir

,

 

output

,

 

rpush

,

 

overwrite

,

 

Hfloor

)}





# Stop parallel 




stopCluster

(

cl

)